By

yumito
Posted in Pen Display
On May 29, 2022
Comments Off

on XP-PEN Artist22 2nd vs Artist22R Pro
If you are searching for a drawing tablet and looking for one with a large screen, then we think the XP-PEN Artist22 2nd Gen or Artist 22 R Pro are wise choices.
The Artist 22 R Pro is far much better when shortcut keys are considered. It has 20 Express Keys and 2 Dials that are conveniently placed on both sides while the XP-PEN Artist22 2nd has no shortcut keys at all.
Below is a detailed comparison of the main specs of the graphics tablets for easy comparison.
XP-PEN

Artist22 2nd Gen

XP-PEN

Artist 22 R Pro
XP-PEN Artist22 2nd

vs

XP-PEN Artist22R Pro

Features Overview

Here we list both drawing tablets main features before diving into our in-depth comparison.
Pressure sensitive

Tilt detection

18.74 X 10.51 inc active area size

No shortcut keys

Report Rate: 220 RPS min

Pressure Levels: 8192

Pressure sensitive

Tilt detection

18.76 X 10.55 inc active area size

20 Express Keys + 2 x Dial

Report Rate: 200 RPS min

Pressure Levels: 8192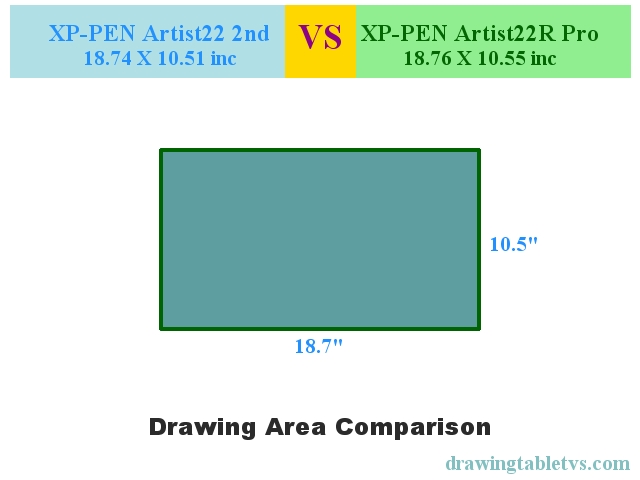 XP-PEN Artist22 2nd

vs

XP-PEN Artist22R Pro

Specs Table
| | XP-PEN Artist22 2nd | XP-PEN Artist22R Pro |
| --- | --- | --- |
| Type | Display | Display |
| Active Area Size | 18.74 X 10.51 inc | 18.76 X 10.55 inc |
| Pressure Levels | 8192 | 8192 |
| Stylus Type | Pressure sensitive | Pressure sensitive |
| Stylus Power | Battry-free Stylus | Battry-free Stylus |
| Tilt Detection | | |
| Dimensions (WxH) | 21.18 X 13.07 inc | 22.44 X 13.14 inc |
| Resolution | 5080 LPI | 5080 LPI |
| Report Rate | 220 RPS min | 200 RPS min |
| Controls | None | 20 Express Keys + 2 x Dial |
| Interfaces | USB Port 1.1 | USB Port 1.1 |
| OS Compatibility | Windows 7/8/10 and Mac Os x 10.8.x or later | Windows 7/8/10 and Mac Os x 10.8.x or later |
| Pen Stand | | |
| Power Source | Power Adapter | Power Adapter |
| Accesories Included | XP-PEN Artist22E Pro Graphics Display, 1 x PA6 Battery-free Stylus, 1 x USB-C to USB-C Cable, 1 x USB-A to USB-C Cable, 1 x HDMI Cable, 1 x Power Adapter, 1 x Power Cord, 1 x Pen Holder (comes with 8 pen nibs), 1 x Quick Guide, 1 x Cleaning Cloth, 1 x Black Drawing Glove | XP-PEN Artist22R Pro, 2 x Battery-free Stylus, Pen Slot, 8x Nibs, VGA Cable, USB Cable, HDMI Cable, Power Cord, Quick Guide, Cleaning Cloth, Power Adapter, Black Drawing Glove, USB-C to USB-C Cable |
| Manufacturer | Link | Link |
| | See Price at Amazon | See Price at Amazon |