By

yumito
Posted in Pen Display
On September 15, 2020
Comments Off

on GAOMON PD1161 vs XP-PEN Artist12
Are you looking for the perfect drawing tablet with in a budget? With so many different models, it can be overwhelming to choose one. That's why we've put together a comparison of two popular drawing tablets: the GAOMON PD1161 and the XP-PEN Artist12.
Before our detailed comparison table here are some key points: The GAOMON PD1161 offers pen tilt detection, which can give your lines a more natural and organic feel. Additionally, it comes with two extra shortcut buttons to streamline your workflow and save you time.
But how does it really compare to the XP-PEN Artist12? Below we'll list all the key features of both tablets, including their display quality, pen responsiveness, and software compatibility. By the end of this comparison, we hope you'll have a better understanding of which tablet is the right fit for your creative needs.
GAOMON

PD 1161

XP-PEN

Artist 12
GAOMON PD1161

vs

XP-PEN Artist12

Features Overview

Here we list their spec summary before diving into our detailed side by side comparison.
EMR

Battery-free stylus

Tilt detection

10.09 X 5.67 inc active area size

8 Express Keys

Report Rate: 266 PPS

Pressure Levels: 8192

Weight:: 1.90 lbs

Passive Pen

Battery-free stylus

10.1 X 5.6 inc active area size

6 Shortcut Keys

Report Rate: 266 PPS

Pressure Levels: 8192

Weight:: 4.85 lbs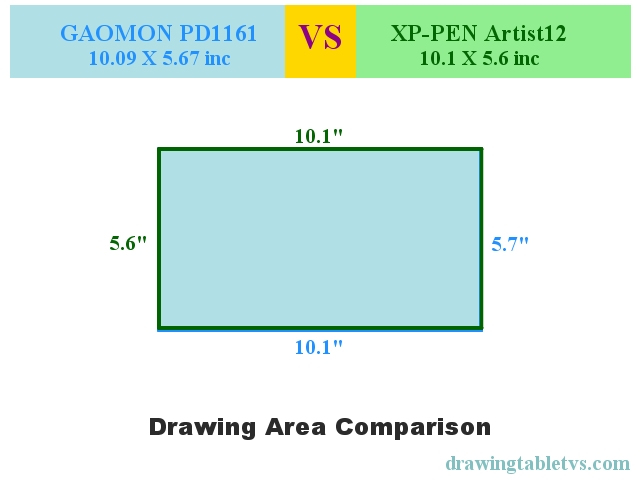 GAOMON PD1161

vs

XP-PEN Artist12

Specs Table
| | GAOMON PD1161 | XP-PEN Artist12 |
| --- | --- | --- |
| Type | Display | Display |
| Active Area Size | 10.09 X 5.67 inc | 10.1 X 5.6 inc |
| Pressure Levels | 8192 | 8192 |
| Stylus Type | EMR | Passive Pen |
| Stylus Power | Battery-free | Battery-free |
| Tilt Detection | | |
| Weight | 1.90 lbs | 4.85 lbs |
| Dimensions (WxH) | 14.23 X 7.87 inc | 14.33 X 8.61 inc |
| Display Resolution | 5080 LPI | 5080 LPI |
| Report Rate | 266 PPS | 266 PPS |
| Controls | 8 Express Keys | 6 Shortcut Keys |
| Interfaces | USB-C,Mini HDMI | USB |
| OS Compatibility | Win 7 or macOS 10.12 or above | Windows System 10/8/7(32/64bit), Mac OS X Version 10.10 or Higher |
| Pen Stand | | |
| Power Source | USB | USB |
| Accesories Included | Pen Display PD1161, Passive Pen AP50, US STD Power Adapter, Pen Holder (Replacement Nibsx8 inside), Glove, 3-in-1 Integrated Cable, Quick Start Guide | P06 Passive Pen, Pen Holder, 8 x Replacement Nibs, USb Cable, Cleaning Cloth, Black Drawing Glove, Quick Guide |
| Manufacturer | Link | Link |
| | See Price at Amazon | See Price at Amazon |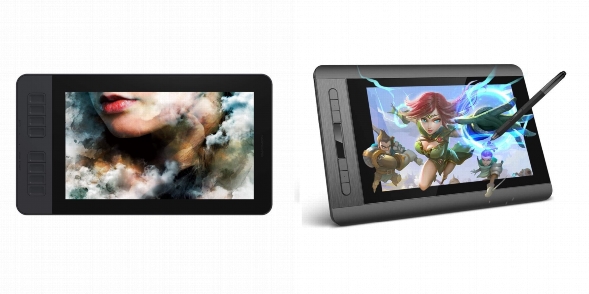 A Video About GAOMON PD1161
A Video About XP-PEN Artist12
Last update: January 2023