By

yumito
Posted in Non-display
On January 17, 2021
Comments Off

on Huion HS611 vs Huion H610 Pro V2
In this comparison, we will be comparing the HS611 and the H610 Pro V2 from Huion. Both the Huion HS611 and Huion H610 Pro V2 can detect pen tilt.
This comparison focuses on the differences between the HS611 and the H610 Pro V2 in the hopes it'll help answer your questions while you make a decision.
The Huion HS611 has a faster 266 RPS report rate
The Huion HS611 has 8 multimedia keys, 10 Shortcuts keys, and a touch strip, while the H610 Pro V2 has 8 Customized shortcut keys and 16 customized soft keys.
The H610 Pro V2 is slightly heavier, 1.35 lbs vs. 1.21 lbs.
Huion

HS611

Huion

H610 Pro V2
Huion HS611

vs

Huion H610 Pro V2

Features Overview

Here we list both drawing tablets main features before getting into our in-depth side by side comparison.
Pressure Sensitive

Battery-free stylus

Tilt detection

10.17 x 6.35 in active area size

8 Multimedia Keys+10 Shortcuts keys+1 Touch Strip

Report Rate: 266 rps

Pressure Levels: 8192

Weight:: 1.21 lbs

Pressure Sensitive

Battery-free stylus

Tilt detection

10 x 6.25 in active area size

8 Customized Press Keys + 16 Customized Soft Keys

Report Rate: 233 rps

Pressure Levels: 8192

Weight:: 1.35 lbs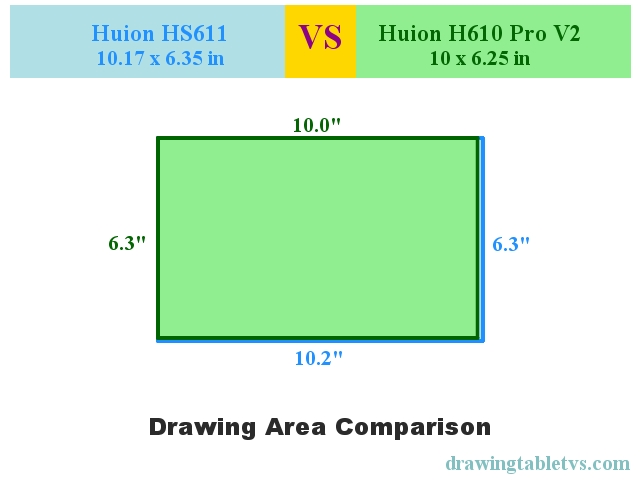 Huion HS611

vs

Huion H610 Pro V2

Specs Table
| | Huion HS611 | Huion H610 Pro V2 |
| --- | --- | --- |
| Type | Non-display | Non-display |
| Active Area Size | 10.17 x 6.35 in | 10 x 6.25 in |
| Pressure Levels | 8192 | 8192 |
| Stylus Type | Pressure Sensitive | Pressure Sensitive |
| Stylus Power | Battery-free | Battery-free |
| Tilt Detection | | |
| Weight | 1.21 lbs | 1.35 lbs |
| Dimensions (WxH) | 13.12 x 8.59.4 x 0.28 in | 13.89 x 10 x 0.47 in |
| Display Resolution | 5080 LPI | 5080 LPI |
| Report Rate | 266 rps | 233 rps |
| Multi-Touch | | |
| Controls | 8 Multimedia Keys+10 Shortcuts keys+1 Touch Strip | 8 Customized Press Keys + 16 Customized Soft Keys |
| Interfaces | USB-C | Mini USB |
| OS Compatibility | Windows 7 or later, Mac OS 10.12 or later, Android 6.0 or later | Windows 7 or later, Mac OS 10.12 or later |
| Pen Stand | | |
| Power Source | USB | USB |
| Accesories Included | Pen Tablet, Battery-free Pen PW500, USB-C Cable, 8x Extra Pen Nibs, Nib Clip, 2x OTG Adapters, Quick Start Guide | Graphics Tablet, Battery-free Pen PW100, Mini USB Cable, Pen Holder PH03, Pen Nibs x 8, OTG Adapters (Micro USB and USB-C), Quick Start Guide |
| Manufacturer | Link | Link |
| | See Price at Amazon | See Price at Amazon |