By

yumito
Posted in Non-display
On October 6, 2021
Comments Off

on HUION Inspiroy H640P vs Huion H610 Pro V2
Are you in search for an affordable yet powerful drawing tablet? Look no further than the Inspiroy H640P and the H610 Pro V2 from Huion. These two tablets are highly regarded options within the Huion lineup, providing unparalleled value and performance for artists of all levels.
While there are many similarities between the two models, the most distinguishing feature is the difference in their active area dimensions. The H610 Pro V2 boasts has a larger drawing area, providing more room for your artistic creations. It also features a tilt-sensing stylus and two additional shortcut keys, offering more flexibility and convenience in your digital workflow.
Throughout this comparison, we'll explore each tablet's unique features and capabilities, including their pen pressure sensitivity, display resolution, and software compatibility. With the below spec comparison, you'll have a better understanding of which Huion tablet will best suit your artistic needs.
Huion

Inspiroy H640P

Huion

H610 Pro V2
HUION Inspiroy H640P

vs

Huion H610 Pro V2

Features Overview

Here we list their spec summary before getting into our detailed comparison.
Pressure Sensitive

Battery-free stylus

6 x 4 in active area size

6 Fully Customizable Keys

Report Rate: 200 PPS

Pressure Levels: 8192

Weight:: 0.5 lbs

Pressure Sensitive

Battery-free stylus

Tilt detection

10 x 6.25 in active area size

8 Customized Press Keys + 16 Customized Soft Keys

Report Rate: 233 rps

Pressure Levels: 8192

Weight:: 1.35 lbs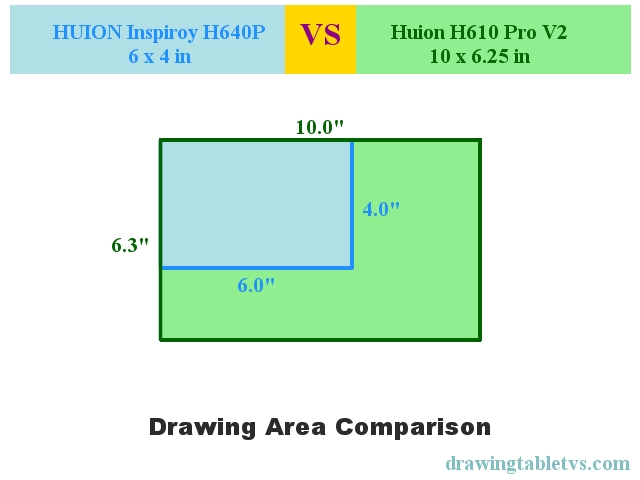 HUION Inspiroy H640P

vs

Huion H610 Pro V2

Specs Table
| | HUION Inspiroy H640P | Huion H610 Pro V2 |
| --- | --- | --- |
| Type | Non-display | Non-display |
| Active Area Size | 6 x 4 in | 10 x 6.25 in |
| Pressure Levels | 8192 | 8192 |
| Stylus Type | Pressure Sensitive | Pressure Sensitive |
| Stylus Power | Battery-free | Battery-free |
| Tilt Detection | | |
| Weight | 0.5 lbs | 1.35 lbs |
| Dimensions (WxH) | 10.23 x 5.8 x 0.3 in | 13.89 x 10 x 0.47 in |
| Display Resolution | 5080 LPI | 5080 LPI |
| Report Rate | 200 PPS | 233 rps |
| Multi-Touch | | |
| Controls | 6 Fully Customizable Keys | 8 Customized Press Keys + 16 Customized Soft Keys |
| Interfaces | Micro USB | Mini USB |
| OS Compatibility | Windows 7 or later, MacOS 10.12 or later Android 6.0 or later | Windows 7 or later, Mac OS 10.12 or later |
| Pen Stand | | |
| Power Source | USB | USB |
| Accesories Included | HUION Inspiroy H640P Tablet, Battery-free Pen, Micro USB Cable, Pen Holder, 8 x Pen Nibs, OTG Adapter, Quick Start Guide | Graphics Tablet, Battery-free Pen PW100, Mini USB Cable, Pen Holder PH03, Pen Nibs x 8, OTG Adapters (Micro USB and USB-C), Quick Start Guide |
| Manufacturer | Link | Link |
| | See Price at Amazon | See Price at Amazon |