By

yumito
Posted in Non-display
On August 22, 2021
Comments Off

on VEIKK A15 vs VEIKK A30
Are you searching for a reliable and affordable drawing tablet to bring your creative ideas to life? We think the Veikk's A15 and A30 tablets are perfect fit for many beginners. Both models offer good value and performance, making them popular choices among many people.
VEIKK

A15

VEIKK

A30
The VEIKK A30 has four touch keys and a convenient gesture touchpad, allowing you to customize your workflow and work more efficiently. On the other hand, the VEIKK A15 offers 12 shortcut keys and a dial for easy adjusting the values like brush thickness, zoom, and opacity. Both models come with pens that supports ±60°TILT, ( you may need a firmware update for the A15), providing even more flexibility and precision in your drawing experience. But be carefull the old version of A30 does not have tilt function, it is only available on the new VEIKK A30 V2.
When it comes to dimensions and size, the A30 is slightly heavier at 2.03 lbs, while the A15 weighs in at 1.20 lbs. However, both tablets have the same drawing area of 10 inches by 6 inches.
VEIKK A15 vs A30, Key Differences
Veikk A15 has 12 shortcut keys and a dial while the A30 has 4 touch keys and a gesture touch pad.
Veikk A30 V2 can detect pen tilt while the Veikk A15 can detect tilt after software update, but some users report that they are having problems with activating it.
The A30 is slightly heavier at 2.03 lbs, while the A15 weighs in at 1.20 lbs.
In this comparison, we'll take a closer look at the features and capabilities of each tablet, including their pen responsiveness and software compatibility.
VEIKK A15

vs

VEIKK A30

Features Overview

Here we list their spec summary before getting into our detailed side by side comparison.
Pressure Sensitive

Battery-free stylus

10 x 6 in active area size

12 Shortcut Keys

Report Rate: 250 PPS

Pressure Levels: 8192

Weight:: 1.20 lbs

Pressure Sensitive

Battery-free stylus

10 x 6 in active area size

4 Touch Keys, Gesture Touch Pad

Report Rate: 250 pps

Pressure Levels: 8192

Weight:: 2.03 lbs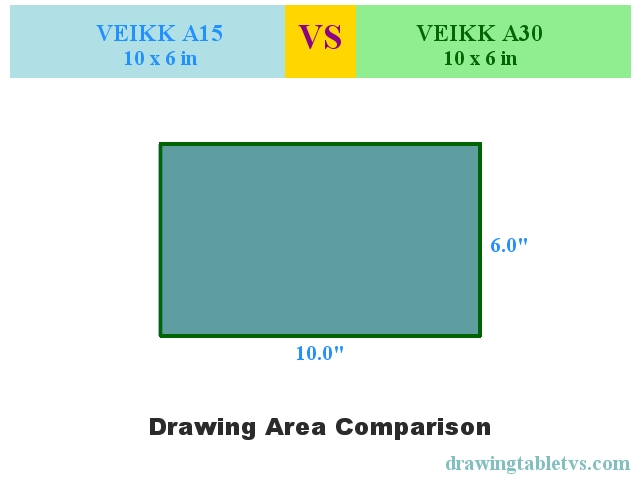 VEIKK A15

vs

VEIKK A30

Specs Table
| | VEIKK A15 | VEIKK A30 |
| --- | --- | --- |
| Type | Non-display | Non-display |
| Active Area Size | 10 x 6 in | 10 x 6 in |
| Pressure Levels | 8192 | 8192 |
| Stylus Type | Pressure Sensitive | Pressure Sensitive |
| Stylus Power | Battery-free | Battery-free |
| Tilt Detection | Partial 60 degree tilt detect (check firmware update) | New A30 V2 has pen tilt |
| Weight | 1.20 lbs | 2.03 lbs |
| Dimensions (WxH) | 14.09 x 7.87 x 0.35 in | 13.07 x 8.35 in |
| Display Resolution | 5080 LPI | 5080 LPI |
| Report Rate | 250 PPS | 250 pps |
| Multi-Touch | | |
| Controls | 12 Shortcut Keys | 4 Touch Keys, Gesture Touch Pad |
| Interfaces | Type-C USB | USB |
| OS Compatibility | Windows 7 or later, Mac OS 10.12 or later, Android 6.0 or later | Windows 10/8/7, Mac OS X v10.12 / v10.11 / v10.10 |
| Pen Stand | | |
| Power Source | USB | USB |
| Accesories Included | A15 graphic tablet, Passive pen, Pen pocket, USB cable(Type-C), Nib removal, 20 Replacement pen nibs, User manual, Driver download reminder | USB cable, Passive Pen, 8x Replacement Nibs, Pen Pocket |
| Manufacturer | Link | Link |
| | See Price at Amazon | See Price at Amazon |