By

yumito
Posted in Non-display
On January 8, 2020
Comments Off

on Huion INSPIROY Q11K V2 vs Huion 1060 Plus
In this comparison, we will compare the INSPIROY Q11K V2 and the 1060 Plus from Huion. After using both devices, I will provide my opinion on their performance, features, and overall value to help you make a decision.
Design and Build Quality
Let's talk about the design and build quality of these tablets first. The Huion INSPIROY Q11K V2 boasts a slim and sleek design, measuring 15.35 x 8.77 inches with an active drawing area of 11 x 6.87 inches. The tablet feels comfortable in hand, and it provides good space for creative work. On the other hand, the Huion 1060 Plus is slightly more compact, measuring 14 x 9.45 inches, with an active drawing area of 10 x 6.25 inches. The difference in size isn't significant, but I always like larger surface to work.
Stylus and Shortcut Keys
Both tablets come with battery-free styluses that deliver 8192 levels of pressure sensitivity. However, the Q11K V2's PW500 pen stands out with its tilt functionality. So the PW500 pen allowed me to achieve smoother lines and more nuanced shading. The Huion 1060 Plus offers more express keys 12 vs 8. I always myself using all of them regularly.
Connectivity
The Q11K V2 has a significant advantage in terms of connectivity, as it offers wireless capabilities in addition to the standard USB connection. I always like the freedom that the wireless functionality, allowing me to work comfortably without worrying about tangled cords or limited mobility. It is a game changer.
Huion

INSPIROY Q11K V2

Huion

1060 Plus
Huion INSPIROY Q11K V2

vs

Huion 1060 Plus

Features Overview

Here we list their main features before getting into our detailed side by side comparison.
Pressure Sensitive, battery-free stylus with tilt detection

11 x 6.875 in active area size

8 Customizable Keys

Report Rate: 266 pps

Pressure Levels: 8192

Weight:: 1.94 lbs

Pressure Sensitive, Battery-free

10 x 6.25 in active area size

12 Customizable Keys

Report Rate: 233 rps

Pressure Levels: 8192

Weight:: 1.70 lbs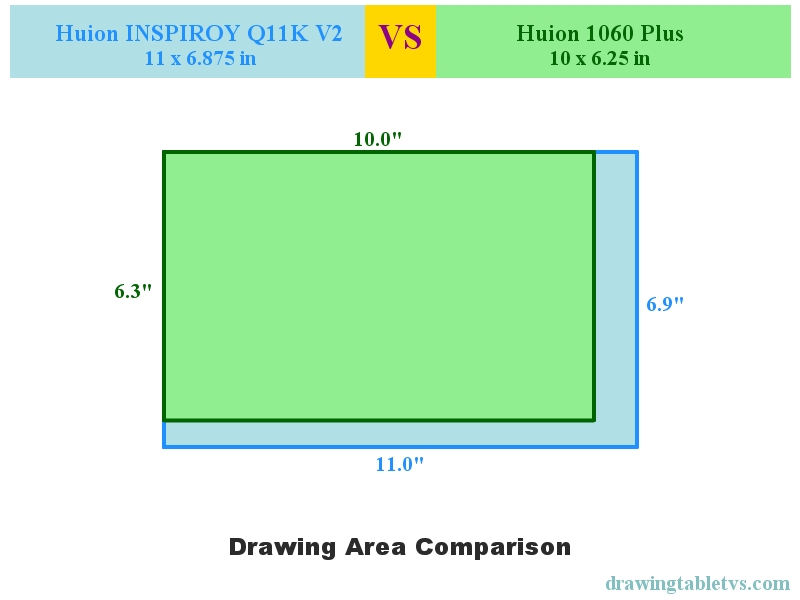 Huion INSPIROY Q11K V2

vs

Huion 1060 Plus

Specs Table
| | Huion INSPIROY Q11K V2 | Huion 1060 Plus |
| --- | --- | --- |
| Type | Non-display | Non-display |
| Active Area Size | 11 x 6.875 in | 10 x 6.25 in |
| Pressure Levels | 8192 | 8192 |
| Stylus Type | Pressure Sensitive | Pressure Sensitive |
| Stylus Power | Battery-free | Battery-free |
| Tilt Detection | | |
| Weight | 1.94 lbs | 1.70 lbs |
| Dimensions (WxH) | 15.35 x 8.77 in | 14 x 9.45 in |
| Display Resolution | 5080 LPI | 5080 LPI |
| Report Rate | 266 pps | 233 rps |
| Multi-Touch | | |
| Controls | 8 Customizable Keys | 12 Customizable Keys |
| Interfaces | USB or Wireless | USB |
| OS Compatibility | Windows 7/8/8.1/10 , Mac OS 10.11 or later | Windows 7 or later, mac OS 10.11 or later |
| Pen Stand | | |
| Power Source | USB or Battery | USB |
| Accesories Included | Pen, Pen stand, Tablet cable (USB type-A to Micro-USB), Pen charging cable, Wireless receiver (USB type-A), Pen nib replacements x8, Driver installation CD, User Manual | Pen, Pen Stand, USB cable for the tablet, USB charging cable for pen, User manual, Glove, Carrying Bag |
| Manufacturer | Link | Link |
| | See Price at Amazon | See Price at Amazon |