By

yumito
Posted in Non-display
On January 7, 2020
Comments Off

on One by Wacom vs Wacom Intuos Pro PTH660
When choosing a Wacom tablet, two standout options are the One by Wacom and the Wacom Intuos Pro. The One by Wacom is an excellent choice for those on a budget, beginners in the creative industry, or individuals seeking a portable secondary tablet for travel. It's lightweight, portable, and comes with a battery-free stylus. However, it's important to note that it has a simpler design with no shortcut keys and a relatively basic stylus. In contrast, the Wacom Intuos Pro is feature-rich, with a more sensitive Pro Pen 2, customizable express keys, multi-touch, and wireless Bluetooth connectivity. Its build quality is better, and it's intended for more experienced users who need a variety of functions.
One by

Wacom

Wacom

Intuos Pro Medium PTH660
For someone who needs a tablet primarily for drawing and doesn't want to break the bank, the One by Wacom (medium) is almost perfect. It offers a good drawing experience, thanks to its textured surface and respectable active drawing area. However, its relatively small size may make it uncomfortable for long periods of use, long strokes, or detailed work. On the other hand, the Wacom Intuos Pro provides a larger active area and a more sensitive pen, which is great for precision. The express keys and touch ring are extremely helpful for professionals who want to speed through tasks without reaching for the keyboard. The Intuos Pro is also an excellent long-term investment given its stellar build quality.
One by Wacom vs Intuos Pro, Key Differences:
The One by Wacom is more affordable and portable, making it suitable for beginners and those on a budget.
Wacom Intuos Pro has a more sensitive pen with 8,192 pressure levels and tilt detection, compared to the 2,048 pressure levels in the One by Wacom's pen that does not support tilt detection.
Wacom Intuos Pro includes 8 customizable express keys and a touch ring for shortcuts, which are absent in the One by Wacom.
The One by Wacom is lighter (0.96 lbs.), whereas the Wacom Intuos Pro (medium) weighs 1.54 lbs.
Wacom Intuos Pro offers wireless Bluetooth connectivity, while the One by Wacom only connects via USB.
The One by Wacom is compatible with Chromebooks, in addition to Windows and Mac OS, while the Intuos Pro is only compatible with Windows and Mac OS.
Wacom Intuos Pro's pen includes a latex-free silicone rubber grip, whereas the One by Wacom's pen has no grip.
One by Wacom Medium

vs

Wacom Intuos Pro Medium PTH660

Features Overview

Here we list both drawing tablets main features before getting into our more detailed side by side comparison.
EMR

Battery-free stylus

8.5 x 5.3 in active area size

No tilt detection

Report Rate: 133 pps

Pressure Levels: 2048

Weight:: 0.96 lbs

EMR

Battery-free stylus with tilt detection

8.7 x 5.8 in active area size

8 Express Keys

Report Rate: 200 pps

Pressure Levels: 8192

Weight:: 1.54 lbs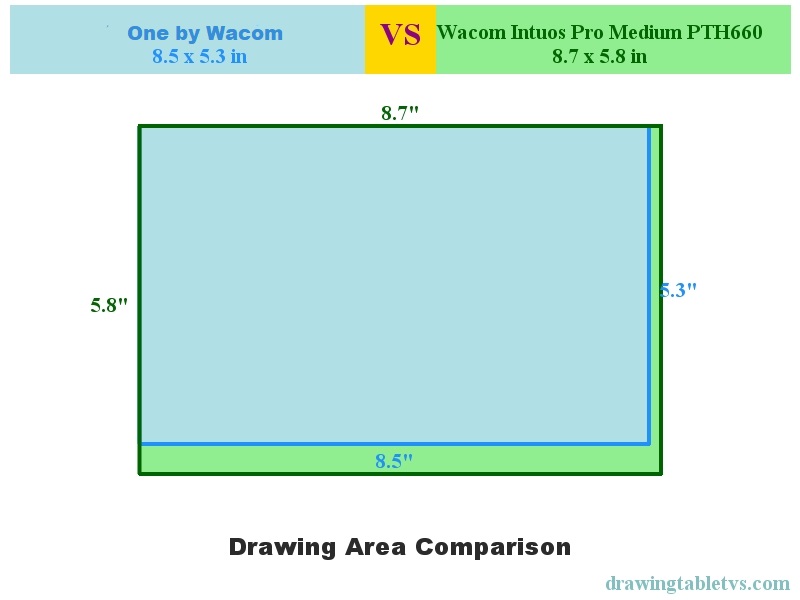 One by Wacom Medium

vs

Wacom Intuos Pro Medium PTH660

Specs Table
| | One by Wacom | Wacom Intuos Pro Medium PTH660 |
| --- | --- | --- |
| Type | Non-display | Non-display |
| Active Area Size | 8.5 x 5.3 in | 8.7 x 5.8 in |
| Pressure Levels | 2048 | 8192 |
| Stylus Type | EMR | EMR |
| Stylus Power | Battery-free | Battery-free |
| Tilt Detection | | |
| Weight | 0.96 lbs | 1.54 lbs |
| Dimensions (WxH) | 10.9 x 7.4 in | 13.2 x 8.5 in |
| Display Resolution | 2540 LPI | 5080 LPI |
| Report Rate | 133 pps | 200 pps |
| Multi-Touch | | |
| Controls | | 8 Express Keys |
| Interfaces | USB | USB or Bluetooth |
| OS Compatibility | Windows 7/8.1/10, Mac OS X 10.10 or later | Windows 7 or later,Mac OS 10.10 |
| Pen Stand | | |
| Power Source | USB | USB/Battery |
| Accesories Included | Regulation sheet, Nib removal tool, 3 standard replacement pen nibs, Replaceable pen (LP-190K), Standard nibs – 5 pack (ACK-20001), Felt nibs – 5 pack (ACK-20003), Flex nibs – 5 pack (ACK-20004) | Ballpoint Pen, Finetip Pen, Pencil, Texture Sheets, Soft Cases, Pen Nibs, Refills |
| Manufacturer | Link | Link |
| | See Price at Amazon | See Price at Amazon |