By

yumito
Posted in Pen Display
On April 28, 2021
Comments Off

on GAOMON PD1220 vs GAOMON PD2200
Two great options that you should consider when you are looking for a drawing tablet are GAOMON PD1220 and PD2200.
In this comparison, we'll be taking a look at the various features, as well as considering the screen-size of both tablets, and try to help you with your decision.
The PD1220 and PD2200 both have Battery-free stylus with tilt detection. Other common key specs include 8192 pressure levels and 5080 LPI resolution.
The GAOMON PD2200 has 8 Express touch keys, while, disappointingly, the PD1220 does not have any button on the screen.
We know that active drawing area and screen size are big deciding factors when you are trying to find the ideal drawing tablet.
The GAOMON PD2200's screen size is 20.55 by 12.44 inches with an active drawing area of 18.76 X 10.55 inches, while the GAOMON PD1220 has an active drawing area of 11.57 x 6.5 inches on its 11.96 by 8.11 inches body.
We like both drawing tablets, however, we think the GAOMON PD2200 is the winner, thanks to its bigger screen, faster report rate (266 PPS vs 220 PPS), and its onboard express keys. On the other hand, if you're a budget shopper looking for a smaller drawing tablet, then we think the PD1220 is a great option.
If you are still unsure whether or not a GAOMON drawing tablet is the best option for you, check out our full Wacom One vs HUION Kamvas Pro 13 comparison here.
GAOMON

PD 1220

GAOMON

PD 2200
GAOMON PD1220

vs

GAOMON PD2200

Features Overview

Here we list both drawing tablets main features before getting into our detailed side by side comparison.
Pressure sensitive

Battery-free stylus

Tilt detection

11.57 x 6.5 inc active area size

–

Report Rate: 220 PPS

Pressure Levels: 8192

Weight:: 4.5 lbs

EMR, Pressure sensitive

Battery-free stylus

Tilt detection

18.76 X 10.55 inc active area size

8 Touch Keys

Report Rate: 266 PPS

Pressure Levels: 8192

Weight:: 12.30 lbs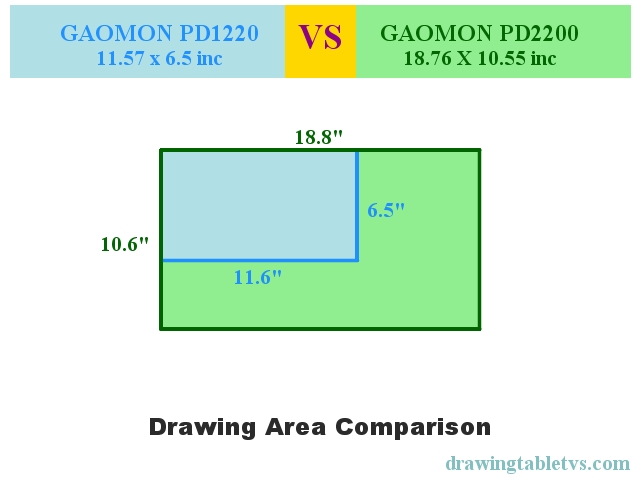 GAOMON PD1220

vs

GAOMON PD2200

Specs Table
| | GAOMON PD1220 | GAOMON PD2200 |
| --- | --- | --- |
| Type | Display | Display |
| Active Area Size | 11.57 x 6.5 inc | 18.76 X 10.55 inc |
| Pressure Levels | 8192 | 8192 |
| Stylus Type | Pressure sensitive | EMR, Pressure sensitive |
| Stylus Power | Battery-free | Battery-free |
| Tilt Detection | | |
| Weight | 4.5 lbs | 12.30 lbs |
| Dimensions (WxH) | 11.96 x 8.11 inc | 20.55 X 12.44 inc |
| Resolution | 5080 LPI | 5080 LPI |
| Report Rate | 220 PPS | 266 PPS |
| Controls | – | 8 Touch Keys |
| Interfaces | USB, HDMI | USB |
| OS Compatibility | Windows 7 or later and Mac OS 10.12 or later, Android 6.0 or above | Windows 7/macOS 10.12 or above |
| Pen Stand | | |
| Power Source | Power Adapter | Power Adapter |
| Accesories Included | GAOMON PD1220 Pen Display, Battery-free Pen AP50, Pen Holder, 8x Nibs, 5V/2A AC Adapter, HDMI to Mini HDMI Cable, USB-A to Type-C Cable, Quick Start Guide | Power Adaptor, Power Cord, HDMI Cable, USB Cable, Digital Pen AP32, Pen Holder, Pen Nibx8, Glove, Quick Start Guide |
| Manufacturer | Link | Link |
| | See Price at Amazon | See Price at Amazon |