By

yumito
Posted in Pen Display
On January 12, 2021
Comments Off

on VEIKK VK1200 vs HUION Kamvas 13
In this comparison, we will compare two popular drawing tablets, the VEIKK VK1200 and the HUION Kamvas 13. Both the VEIKK VK1200 and HUION Kamvas 13 can detect pen tilt.
VEIKK

VK1200

HUION

Kamvas 13
VEIKK VK1200

vs

HUION Kamvas 13

Features Overview

Here we list their spec summary before getting into our more detailed comparison.
Pressure sensitive

Tilt detection

10.1 x 5.7 active area size

6 Shortcut Keys

Report Rate: 250 RPS

Pressure Levels: 8192

Weight:: 1.71 lbs

EMR,Pressure sensitive

Battery-free stylus

Tilt detection

11.56 X 6.50 inc active area size

8 Shortcut Keys

Report Rate: 266 PPS

Pressure Levels: 8192

Weight:: 2.16 lbs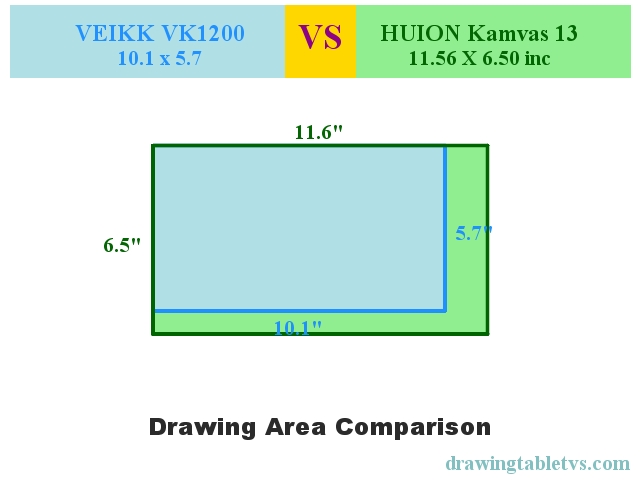 VEIKK VK1200

vs

HUION Kamvas 13

Specs Table
| | VEIKK VK1200 | HUION Kamvas 13 |
| --- | --- | --- |
| Type | Display | Display |
| Active Area Size | 10.1 x 5.7 | 11.56 X 6.50 inc |
| Pressure Levels | 8192 | 8192 |
| Stylus Type | Pressure sensitive | EMR,Pressure sensitive |
| Stylus Power | Battery-free | Battery-free |
| Tilt Detection | | |
| Weight | 1.71 lbs | 2.16 lbs |
| Dimensions (WxH) | 12.51 X 7.44 inc | 14.42 X 8.55 inc |
| Resolution | 5080 LPI | 5080 LPI |
| Report Rate | 250 RPS | 266 PPS |
| Controls | 6 Shortcut Keys | 8 Shortcut Keys |
| Interfaces | USB, HDMI | USB-C |
| OS Compatibility | Windows 7/8/9/10, Mac10.12 or above | Windows 7 or later, MacOS 10.12 or later Android |
| Pen Stand | | |
| Power Source | Power Adapter | USB |
| Accesories Included | Pen Display, 2x Pen, 28 pen nibs,1 artist glove,1 pen holder and clean cloth, USB cable, HDMI cable, Nib Remover, 2x Pen Pocket | Kamvas 13 Pen Display, Battery-free Pen PW517, 3-in-1 Cable, USB Extension Cable, Pen Holder PH05, Pen Nib Clip, 10x Pen Nibs, Glove,Cleaning Cloth, Quick Start Guide, Adjustable Stand ST300 |
| Manufacturer | Link | Link |
| | See Price at Amazon | See Price at Amazon |